Fighting Back Against CRPS with Calmare Therapy
By Dr. Michael Cooney, Clinical Director, Calmare Therapy NJ USA
In 2010, as I obtained the professional training to use the Calmare MC-5A device, I grew more excited about using technology to deliver pain relief to my patients without the need for any drugs.
Those of us who work in pain management were not surprised to see the eventual explosion of the opioid crisis. As a chiropractor, my specialty requires using drug-free techniques to minimize and eliminate pain.
What I did not foresee was the vast community of CRPS sufferers who had tried a myriad of medications, painful procedures, surgeries, treatments — and were still left with debilitating pain.
Victoria, the Founder and Chair of Burning Nights CRPS Support, and I met electronically in 2015 via our mutual efforts to help the largely unknown and unrecognized CRPS community.
She generously publishes several alternative health options to treat the disease, including Calmare Therapy for CRPS, and it was our great honor to finally welcome both she and her husband Michael to our clinic in March of this year. (Victoria even underwent a Calmare Therapy treatment for her CRPS!)
Now already well into the year, I would like to share an update on our program here in New Jersey, just outside New York City: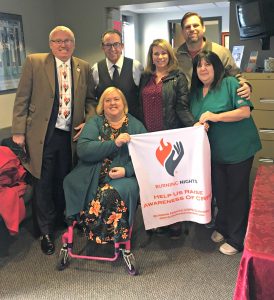 How Calmare Therapy Can Lessen Severe Pain for CRPS Sufferers
Calmare scrambler therapy is remarkable for a number of reasons, including the fact that it can be used to combat several types of chronic nerve pain (neuropathy), including chemotherapy treatments, Shingles, diabetes, post-surgical pain and unexplained nerve pain.
I'm often asked why scrambler therapy is one treatment that can significantly reduce CRPS pain and physical symptoms (allodynia, skin lesions, hair loss, skin discoloration) when drugs and other therapies fail.
After treating more than 500 CRPS patients over the past seven years, it is apparent to me that CRPS / RSD is a unique communication between local tissue and the pain center of the brain.
The Calmare MC-5A device scrambles (disrupts) this (misfiring) pain signal, which says there is pain—when, in fact, there is not.
Once the scrambler device scrambles this misfiring message over a series of one daily treatment over a period of 10 days, in most cases, the brain's misfiring message ceases and pain is eliminated.
How is a Calmare Treatment Performed?
Using several small electrodes (think EKG) carefully placed in the region of the injury, the technology sends a mild and painless "no pain" message to the brain through the electrodes.
Essentially, the scrambler machine "overrides" the brain's confused message and corrects it to the 'no pain here" message.
Keep in mind, the brain can also send this faulty message of pain to any region of the body—even a location which never sustained any kind of injury.
There is, in fact, no physiological reason for the pain.
As a comparison, phantom limb pain can result when a person who has undergone an amputation still feels significant pain in the part of the body which has been amputated.
Simply stated, CRPS mimics the same brain confusion but the Calmare device, through the use of the scrambler device, reboots the brain pain-firing messages.
Calmare Clinical Trial Success
Dr. Charles L. Loprinzi, who was interviewed in January 2016 after leading his own successful Calmare clinical trial for the Mayo Clinic, explains:
"TENS is thought to work through the gateway theory of pain relief, whereby normal touch sensations blocks pain sensations. But scrambler therapy, on the other hand, provides normal-self, non-pain electrical information via nerves which have received transmissions of chronic pain information."
Dr. Loprinzi said that through a process called 'plasticity,' the brain is 'retrained' and will no longer register a pain sensation in the affected area.
To date, there are at least 20 published reports on scrambler therapy that included results involving close to 1,000 patients in total.
These reports include clinical practice summaries, prospective non-randomized clinical trials and randomized controlled trials, including two trials that sought to double-blind patients and investigators.
In sum, the authors of 19 out of the 20 reports concluded that scrambler therapy was a beneficial pain management treatment approach.
Mayo Clinic Calmare Trial Patient Story: "Side-Lined No More"
Post-Clinical Trial Interview with Dr. Loprinzi
Recent Calmare Case Studies
With patients' permission, we regularly share their outcomes on our website. Yes, it is somewhat unusual for patients to share their personal health experiences, which makes it especially impactful and meaningful.
I'd like to share a few of our successful patient outcomes in the past year:
Fighting Back Against CRPS with Calmare Therapy – Peter Hinninger, CRPS Patient for 17 years
Peter Hinninger – New Jersey, USA
CRPS Patient for 17 Years
Over the course of 17 long years, Peter tried every medication and every treatment, including a spinal cord stimulator (neuromodulation) to lessen his chronic pain.
Still, his pain level hovered around a consistent 7-8 on the Pain Scale.
After the completion of the standard 10-treatment therapy, we both teared up when he realized he was pain-free for the first time in more than a decade.
Peter and his long-time partner co-wrote a book detailing his Calmare Therapy treatment experience for his CRPS.
Cara – Scotland
Paediatric CRPS
Young teenager Cara underwent several therapies and pain management medications to lessen neuropathy. She was still left in pain throughout much of her body.
Ultimately, her family elected to seek an alternative pain therapy solution and chose to cross the pond to the U.S. after Cara's parents consulted via phone with me.
I'm delighted to report she sustained a terrific outcome. Best of all, she left smiling with her pain level down to a 1/10.
She and her mother tell her story via this link: Cara's Calmare Therapy for CRPS Journey
Helping Children and Teens with CRPS Using Calmare Therapy
Dr Michael Cooney also wrote a great article that was specifically for children and teens with Complex Regional Pain Syndrome (CRPS) using Calmare Therapy also known as Scrambler Therapy. Why not read Dr Cooney's article entitled "Helping Children and Teens with CRPS Using Calmare Therapy"?
Tonya Schuler – West Virginia, USA
CRPS after Carpal Tunnel Surgery
"When my pain management doctor told me a spinal cord stimulator (SCS) was the final treatment option, I knew I had to take matters into my own hands and reach out to the CRPS community for a less invasive option," Tonya explains.
After her routine hand and wrist surgery, the chronic pain started in one hand and soon spread to the other. As the condition worsened, the CRPS spread to her neck, back and stomach.
Tonya tells her story after undergoing Calmare Therapy for CRPS via this link: Tonya's CRPS Journey
Hope, Fortitude, Tenacity, Sheer Determination
You can read or watch more of our patient stories, most of whom arrived at our clinic bearing the weight of daily pain that made work, school–even socializing or taking a walk in the park–impossible.
They had tried every treatment and medication without success, up to the day they arrived at our clinic.
Not surprisingly, many new patients arrive skeptical and dejected (who could blame them?)
But they all had one key attribute that remained steadfast–regardless of all the treatment disappointments.
Hope.
And we were honored that they mustered the remarkable fortitude to try (again) to mitigate their pain and regain their quality of life.
Seven years after introducing scrambler therapy, I have treated children, teens, parents, and grandparents, most of whom are living pain levels from 8-10 every day.
After 10 daily treatment sessions, lasting about 35-minutes each, more than seven in 10 patients achieve a pain-free state or a reduction in pain to a degree that enables them to resume a pleasurable quality of life.
Why do the 30 percent not achieve pain relief?
Sometimes they have additional health issues that interfere with treatment, sometimes they are non-compliant after therapy, and sometimes we just don't know.
But we will battle on against this dreadful disease and help as many people as we can to achieve a better quality of life.
And we have just begun the fight.
Written by Dr Michael J. Cooney
Why not check the other articles wirtten by Dr M.J. Cooney regarding Calmare Therapy?
Calmare Therapy for CRPS Q & A
Dr Cooney Offers a Calmare Therapy Update
Helping Children and Teens with CRPS Using Calmare Scrambler Therapy
Dr. Michael Cooney is one of six certified Calmare providers in the U.S. His clinic is located just outside New York City. He is a professionally certified chiropractor who has been treating severe acute and chronic pain conditions for more than 40 years.
After introducing Calmare Therapy in 2011, he soon began helping CRPS patients from as far away as South America, South Africa, Australia and Europe.
Dr. Cooney offers complimentary phone or video chat consultations with people from outside the U.S. To learn more, visit www.calmaretherapynj.com email CalmareNJ@gmail.com or call 001-201-933-4440.
Calmare Therapy also known as Scrambler Therapy is used as a treatment for many conditions including Complex Regional Pain Syndrome (CRPS). This article offers an insight into fighting against CRPS with Calmare Therapy. Please feel free to share the article on social media or make a comment below.
Written: 18/07/2018
Last Updated: 07/03/2019