Our 5th Annual National CRPS Conference was held at the DoubleTree Hilton Bristol North on Saturday 2nd November 2019.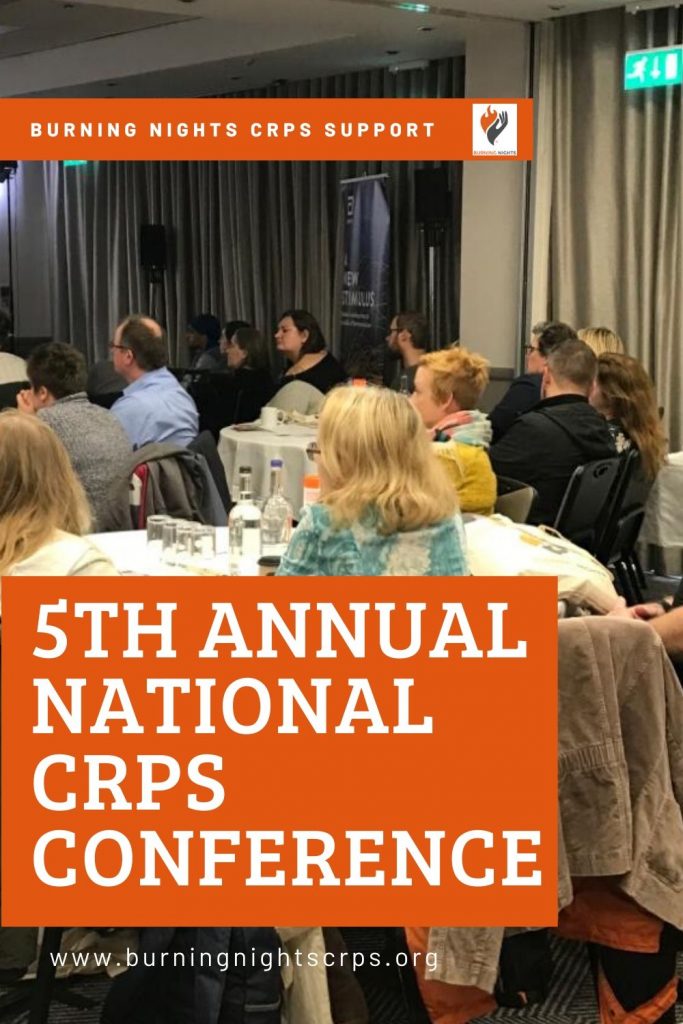 Overall the Burning Nights CRPS Support 5th Annual National CRPS Conference was a fantastic success where we had some amazing speakers. We'd like to say Thank You to this year's sponsor, Mazars UK, and it is because of their generosity it enabled the charity to maintain the conference free of charge for CRPS patients, their families and friends. Thank You Mazars UK!
Watch our brief highlight video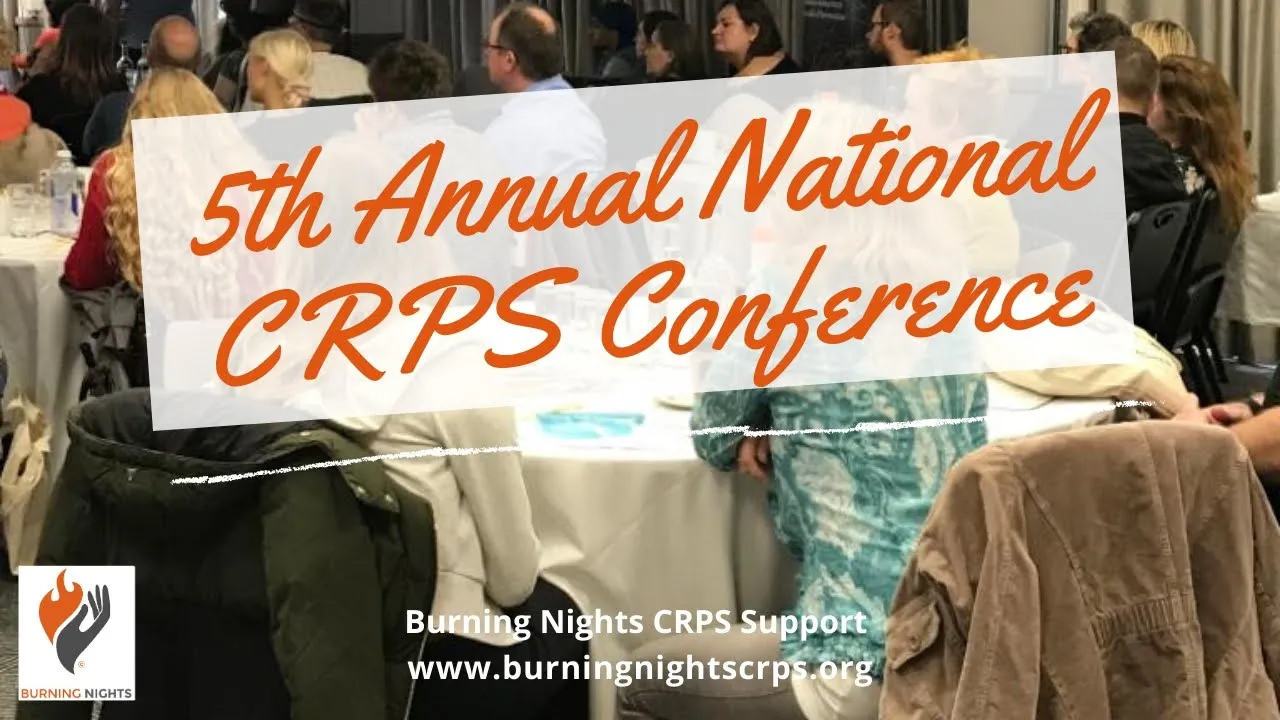 Livestream – 5th Annual CRPS Conference
If you want to view the livestream please visit our YouTube – Live 5th annual CRPS conference where you can see the whole event and each of the presentations.
Here is a brief overall of all the speakers and their presentations.
Chris Edwards, Motability, 'The Motability Scheme'
The Scheme is designed to help disabled people remain mobile, and allows them to exchange their weekly mobility allowance to cover the cost of leasing a new car. The scheme leases cars, mobility scooters and Wheelchair Accessible Vehicles (WAVs) to people who quality for the government's mobility allowance.
The Motability Scheme helps you get mobile by exchanging your higher rate mobility allowance to lease a new affordable car, Wheelchair Accessible Vehicle, scooter or powered wheelchair.
Even if you don't drive, you can still lease a car and nominate two people who can drive for you.
The Scheme is run by Motability Operations Ltd
Find out more about the Scheme from Motability
Dr Monika Halicka, Doctoral Researcher, 'Sensory-motor adaptation treatment for CRPS – findings from a randomized controlled trial'
People with CRPS can have difficulty attending to their affected limb(s). Prism adaptation can reduce similar problems with attention in other conditions. The treatment involves doing a pointing task with one hand while wearing prism goggles that shift what we see to one side.
Our brain learns to adapt the pointing movements towards the affected side, and attention should follow. Prism adaptation was found to reduce upper limb CRPS pain in previous studies, however these studies involved only small numbers of participants and did not control for several other factors that could have influenced people's pain.
Therefore, we conducted a robust test of prism adaptation for upper limb CRPS, called a double-blind randomized controlled trial. Our trial involved 49 people with CRPS and showed that two weeks of prism adaptation did not reduce pain and CRPS symptom severity more than a similar control treatment.
In fact, CRPS severity decreased in both treatment groups. This could be due to the 'placebo effect'. Another possibility is that symptoms were reduced because of the movements of the affected arm, which were done by all participants.
Although this is not the result that we were hoping for, having tested prism adaptation treatment in a well-controlled way and found that it doesn't appear to be effective means that researchers and clinicians can turn their attention to investigating other treatments.
Chris Marshall, VELA, "VELA Chairs"
VELA Seating Solutions since 1935. Promoting independence and inclusion in Education, Work & Home.
VELA's 2019 campaign has focused on MS which has seen some very positive results.
See how our chairs promote independence by visiting our website.
Chris Marshall, VELA, "VELA Chairs"
VELA Seating Solutions since 1935. Promoting independence and inclusion in Education, Work & Home.
VELA's 2019 campaign has focused on MS which has seen some very positive results.
See how our chairs promote independence by visiting our website.
Dr Ash Gulve, Pain Management Consultant, Treatments for CRPS
Complex Regional Pain Syndrome is a very complex and difficult condition not only to diagnose but to also treat. There is no cure for CRPS but there are management options available.
Dr Gulve spoke CRPS as a condition, how it can develop and more importantly about the various treatments available for complex regional pain syndrome including Dorsal Root Ganglion Stimulation treatment.
Dorsal Root Ganglion stimulation is a form of neuromodulation therapy for complex regional pain syndrome. Burning Nights CRPS Support has a booklet on DRG stimlation for CRPS either as a download or you can purchase a printed copy of the 24 page booklet.
Learn more about the DRG for CRPS via our recent 30 minute Webinar. The speaker was Dr James Fitzgerald.
Joanna Bailey and Katherine Hodge, Solicitors from MWSL – "CRPS, Personal Injury and Employment Law"
Solicitors Joanna Bailey and Katherine Hodge from MWSL were delighted to speak at Burning Nights CRPS Support conference in Bristol on 2nd November 2019.
Their presentation was split into two separate parts – CRPS and Personal Injury by Joanna Bailey and CRPS and Employment Law by Katherine Hodge.
Joanna Bailey – Head of Personal Injury MWSL
Joanna Bailey, Head of Personal Injury MWSL and both a member and assessor for the Law Society's Personal Injury Accreditation Scheme and a member of the Association of Personal Injury Lawyers.
Joanna explained that to bring a personal injury claim you needed to prove that:
someone or an organisation had a duty of care for your safety; and
that someone or an organisation failed you in that in duty; and
it directly caused you injury and financial loss.
You could make a claim for:
pain, suffering and loss of amenity
disability on the labour market
loss of congenial employment
past and future financial losses such as loss of income, pension, treatment, medication and accommodation.
You have:
3 years to make your claim from the date of the accident or knowledge of it as an adult
3 years from your 18th birthday if you were injured before you were 18 years old
2 years to make the claim to the Criminal Injuries Compensation Authority.
Helpful evidence to support your claim:
statements from witnesses
CCTV or phone footage of the accident
your medical notes
supporting independent medical expert reports and financial documentation
Final word:
The Defendant's Insurers may arrange to undertake video surveillance upon you to see if you are more able than you say. They are entitled to do this if you are in the public domain but not to knock on your door and invite themselves in and video you whilst pretending to be someone else.
We can help with specialist surveillance experts who can check if the material has been cut to suggest you are more active than you are
Do not stop being yourself or doing the things you can
It can help to keep a diary of the days you have pushed yourself to undertake a family or even work commitment and then had to stay at home for a few days to catch up with yourself. This helps your solicitor to appreciate the impact on you and explain your active days to the Defendant's insurers
Katherine Hodge, solicitor specialising in Employment law
Katherine, as a solicitor specialising in Employment law and a member of the Employment Lawyers Association (UK), advised the conference about the Equality Act 2010.
The Act:
came into force on 01/10/2010 bringing together 16 separate pieces of legislation;
provides a framework to protect the rights of individuals and advance equality for all;
provides Britain with discrimination law to protect individuals from unfair treatment and promotes a fair and more equal society.
Protects characteristics of:
age;
disability;
sex;
gender reassignment;
race;
religion or belief;
sexual orientation;
marriage and civil partnership;
pregnancy and maternity.
What does the Act say is a disability?
Section 6 " A person has a disability if:-
(a) they have a physical or mental impairment; and
(b) the impairment has a substantial and long-term adverse effect on their ability to carry out normal day to day activities.
What conduct is prohibited?
direct or indirect discrimination
discrimination arising from disability
harassment
victimisation
There is a duty to make reasonable adjustments
What areas are covered?
Employment
Goods
Services
Facilities
Where are these covered? (examples)
access to any place members of the public or a section of the public are permitted to enter, such as pubs and restaurants;
retails areas including shops and online;
hotel accommodation including boarding houses;
finance facilities, education, entertainment, recreation, transport and in relation to professional services;
places of worship, courts, hospitals and advice agencies.
What are the duties under the Act?
to remove barriers you may face because of your disability so you can access and use their goods and services in the same way, as far as possible, as these who are not disabled;
make reasonable adjustments
When this does not happen what can you do?
issue court proceedings for goods and services discrimination;
proceedings must be started within 6 months of the date of the act to which the claim relates;
in England and Wales, the person making the claim must give notice of the proceedings to the European Human Rights Court and file a copy of that notice at court.
What can the court do?
the court has a number of things it can do under both tort law or a claim for judicial review;
grant an award of damages;
has the power to make a non-financial remedy such as a declaration or injunction.
Final word:
We are here to help when you feel that things have not been adhered to and give advice from a legal perspective of what you can do.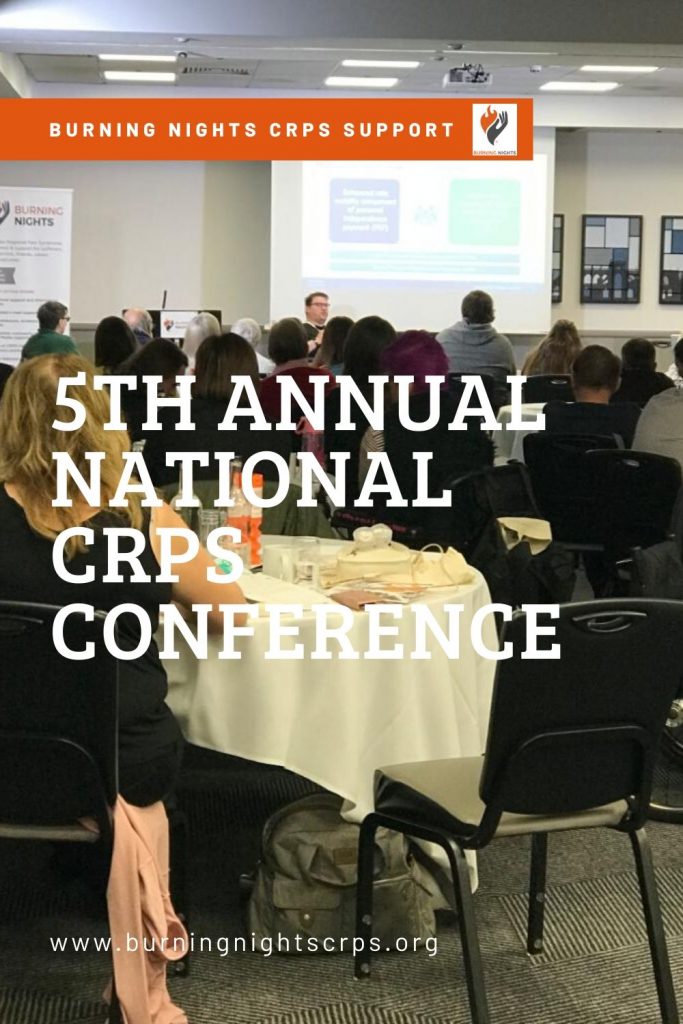 Rory McMillen, RealHealth Pain Management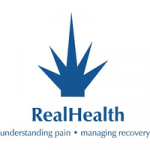 RealHealth provide evidence-based Pain Management & Functional Restoration Programmes from a base in the centre of Rugby, Warwickshire, and have done so for over 30 years.
These high intensity programmes, based on NICE guidelines, are delivered to small groups of patients via an inter-disciplinary team of experienced clinicians specialising in pain.
Rory McMillen presented a synopsis of how these programmes have developed and how an earlier diagnosis of CRPS could be integrated into a comprehensive early intervention Rapid Access programme in the work environment which identifies and treats acute, severe and chronic back pain.
Dr Zoey Malpus, Consultant Clinic Psychologist, "Compassion Focused Therapy"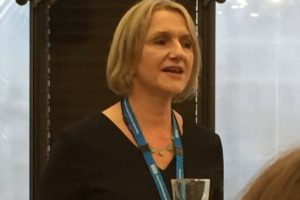 Dr Malpus is a Consultant Clinical Psychologist based at Manchester Pain Service. She has been adapting a relatively new form of psychological therapy, Compassion Focused Therapy (CFT) for working with "strivers" in pain; those people with chronic pain who push themselves too hard and become trapped in a vicious cycle of "boom and bust".
Unfortunately, this only perpetuates flare-ups and increases risk of burn out in the longer term. Dr Malpus' work has shown that developing a compassionate mind can help with soothing pain-related distress and self-criticism, helping better pacing and reduces pain.
Compassion Focused Therapy (CFT) is a biopsychosocial approach to understanding and alleviating human suffering. It draws upon both evolutionary psychology and Buddhist principles and acknowledges that we all have "tricky brains" (Gilbert, 2009), leading to unintended consequences that can be detrimental to our well-being.
CFT teaches people to understand how their brains and bodies function and recognise that this is not their fault that they have "tricky brains" but that it is their problem. Further, CFT helps them learn to change this by developing self-soothing, mindfulness and compassion-based techniques, which stimulate the frontal lobes to regulate the old brain functions.
Regular compassion-based practice promotes greater self-awareness and self-control, allowing access to the logical "wise mind" that can hold competing information and still remain true to compassionate values.
Dr Malpus presented the outcomes of 5 years of running CFT for Pain groups in Manchester. 80 people have now completed the 8-week group and found that it leads to reduced depression and improves pain-related anxiety.
Perhaps most importantly, they have found that increasing self-kindness is directly related to a reduction in pain, an encouraging finding that we all might want to take on board! Dr Malpus then shared a compassionate flow exercise with the audience to give everyone a direct experience of this approach.
CRPS Patients and Families
There were two Complex Regional Pain Syndrome (CRPS) patients – Maya and Stu who gave their CRPS journeys to date. We also have Petra, Maya's mum who also recounted her journey with her daugher who had CRPS and how it affected her life.
Would you like to share your CRPS story either as a CRPS patient or family member on our blog or Instagram feed? If so please visit our Share Your Personal CRPS Story article that gives you all the details on how you can send this to us.
Final Word – 5th Annual National CRPS Conference
On behalf of Burning Nights CRPS Support, we'd like to say a huge Thank You to our 5th Annual National CRPS Conference sponsors – Mazars UK. It is with their sponsorship that we are able to keep our annual conferences free of charge for CRPS patients and their families.
We'd also like to thank each of the speakers at the conference who each gave up their Saturday to provide the conference with some amazing presentations. Thank You to all the conference attendees who came to the CRPS conference. The Founder of Burning Nights CRPS Support would also like to thank all the volunteers who came to the conference to help out whether that was tending to the shop and raffle, the reception or helping our during the conference.
If you would like to volunteer please contact us as we have a large range of new volunteering opportunities available at the moment. Please visit our Volunteers Wanted article for more information.
As a small charity we rely on the generosity and kindness of donors and sponsors. Just £5 a month for a year could allow us to provide a CRPS patient and their family member with CRPS information leaflets.
6th Annual National CRPS Conference
Our next annual conference will be our 6th Annual National CRPS conference and our venue and date will be confirmed shortly.
If you are a company and are interested in sponsoring the conference either the whole event or partial, please contact us and we will send you our sponsorship information pack.
Written: 24/01/2020
Last Updated: 24/01/2020